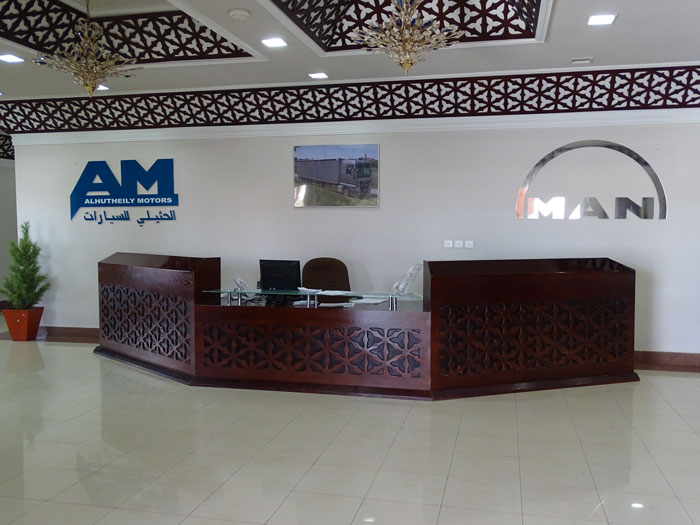 AUTOMOTIVE  ALHUTHEILY MOTORS & HEAVY EQUIPMENT COMPANY LTD., A subsidiary of Alhutheily Group, incorporated in 2010 with an objective to became the market leader of commercial vehicles in Yemen. Added to quality products from world-renowned brands, the company is known for its incomparable level of support and dedicated after-sales. Alhutheily Motors division distributes MAN Trucks, Vans, Buses and Engines across Yemen offering total transportation solutions with products portfolio that include lubricant, batteries, tyres and spare parts.  ALHUTHEILY MOTORS & HEAVY EQUIPMENT FZE Started in 2018 with its office in Dubai, United Arab Emirates, as a subsidiary company of Alhutheily Group with the core business in commercial vehicles, machinery, engines and spare parts. Alhutheily Motors has been appointed by MAN Engines Division - MAN Trucks and Buses Se as a dealer in Middle East and North Africa to promote and market MAN Engines as part of Electro Pack Generators developed and marketed by AMC. We work closely with MAN Trucks and Buses dealers in MENA region to introduce Power Generators in each territory as per local requirements. We ensure business relations built based on mutual benefits, to maximize the value of our partners. POWER l ENERGY  ALHUTHEILY MOTORS & HEAVY EQUIPMENT COMPANY LTD., AMC has been appointed as sole OEM Partner for MAN Industrial engines in MENA countries and started developing Power Generators ElectroPack. The firm provides power utility solutions, execute tailored, fully equipped projects for power, water and solar energy.  ATICO ENERGY We ensure products offered make your business flexible, profitable and add value to your business with the reliability and competence of MAN Engines. Added to that, we provide other known generators brands including Kubota and Himonsia. TRANSPORT  ALHUTHEILY TRANSPORT An international land transport known as a reliable preferred transport solutions provider. Referred to as the first crude oil transportation company in Yemen and has worked with international companies including Total, DNO, DOVE, and OMV, the group started business in transporting LPG and refined fuel products. We don't do mere business, we contribute in relieving the effects of instability in Yemen, making refined fuel products and LPG gas available. We have the proud to declare that, we are the market leader in Land, Crude oil, LPG and Refined Fuel Products Transport. We have initiated regional operations in United and serve clients in Saudi Arabia, Oman, Jordan. OIL AND GAS  ALHUTHEILY OIL AND GAS A reliable gas stations operator, with activities including the ownership of refined fuel/LPG stations, oilfield supply and construction in Yemen. In partnership with TG Engineering, YemenCan has been set as a joint venture in 2008 and since then has completed several successful projects. SHIPPING  HIGH TRUST PETROLEUM L.L.C Initiated 2014 in Sharjah, United Arab Emirates, High Trust Petroleum is a leading oil tanker chartering and oil tanker supplier. High Trust is extending its services by adding new vessels, to meet the Group's operations in Yemen and serve other clients in the region. RETAIL  ATICO FOOD A whole seller and retailer, ATICO FOOD ensures to offer food supplies at reasonable prices. We have invested in setting retail outlets, poultry farms in response to the shortage in this sector. PHARMACEUTICAL  ATICO PHARMA A marketer of wide range of innovative pharmaceutical products. We are recognized for our expertise in providing products that enhance healthy life standards. We strive to bring pharmaceutical and healthcare products, at reasonable prices from trusted manufacturers. We have signed business agreements with world class pharmaceutical factories and plan to have our network pharmacies. REAL-ESTATES  ROYAL ESTAE The real estate sector is dynamic and has seen a steady growth. We have involved in the development, construction and management of properties. ROYAL offers high standards projects via prestige property management, with a heritage of reliability and trust.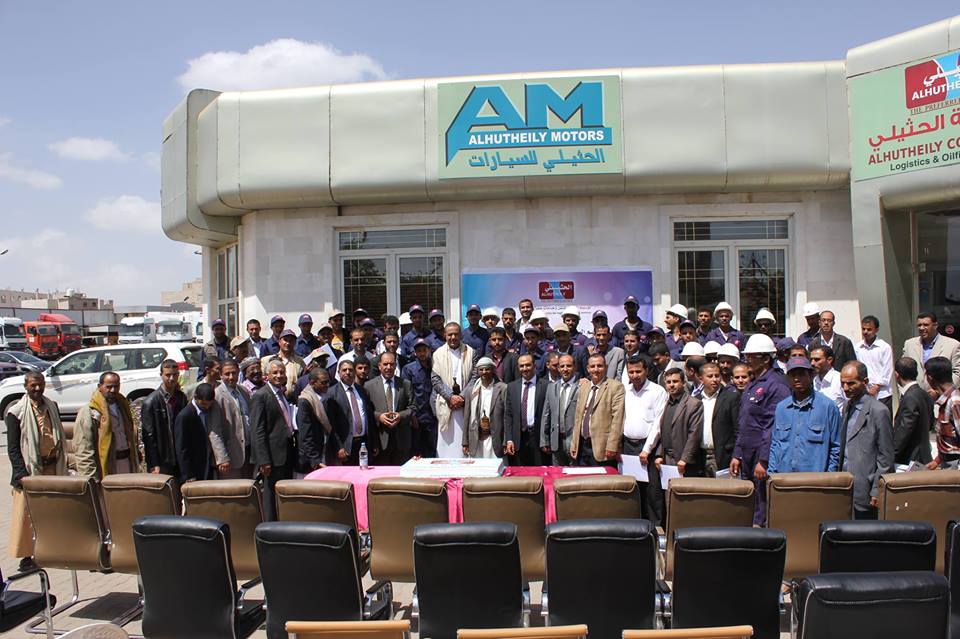 ALHUTHEILY CORPORATION is now positioned to be the vital and the preferred local choice for years to come. The excellent local, regional, international relationships and merging business climate in Yemen encourages being part of the energy sector and providing services that are required by the market.
ALHUTHEILY CORPORATION aims to provide a modern integrated services and supply to support onshore and offshore activities. • Building industrial facilities in various areas and industrial Zones to be the first state of the art facilities which will be used for manufacturing, stocking spare parts, chemicals and fast-moving items used by the Oil & Gas industry, as well as to establish Repair and Regional Service Centers for most equipment's used by the oil and gas industry to meet the increasing demand of this type of services. Other facilities will be used as showrooms, warehouses for long and short-term purposes.
Opening offices across the country and embarking on a successful local strategy to secure business in the area and create new and lasting relationships. (Already have offices and service camps in Sana'a, Hodaidah, Aden Mukalla and various oilfield location all over Yemen)
Complements our products and solutions offering, bringing state of the art products and services.
ALHUTHEILY CORPORATION also aims and its activities are to establish long-term mutually beneficial business and partnership ties with companies in the Oil and Gas related business.